Three Steam Trains on May 24!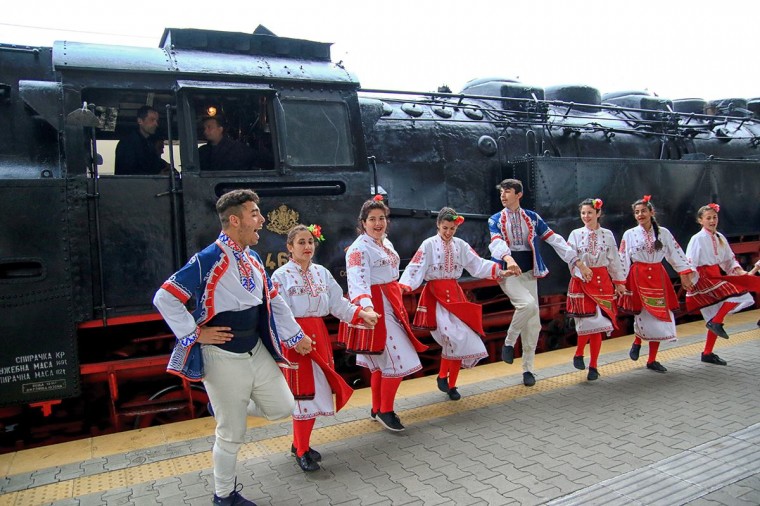 Dear friends,
Time has come for three exciting trips with steam locomotives!
On May 24-th, the National Day of the Bulgarian Alphabet, three trains will be available:
The ALPHABET TRAIN, pulled by the famous and most powerful steam locomotive in Europe, Baba Meca, will travel from Sofia to Bankya and back.

This train is dedicated to the national day of the Cyrillic alphabet and 120 students and teachers from all over Bulgaria will be special guests in the first two wagons.
In their honour, starting at 10,00 h, the unique brass orchestra of Sofia Municipality will perform in front of the train. Young children will be dancing in various styles.

Behind the first three wagons, the third of which will be a book store on wheels, there are regular passenger wagons and you can purchase tickets for 18 leva per person.

The train will depart at 10,45 h and will be in Bankya at 11,10h, where the music and dances will continue. The return will be at 12,50 h.
NOW! Pay attention!
On May 24, at 9,00 h. from the Central Train Station to Plovdiv will depart one more steam locomotive, called
THRACIAN ROMANCE
The fastest Bulgarian steam locomotive, 05.01, which can go up to 120 km/h, will take you not just to Plovdiv, but also to Hisarya. This is how it goes:
09,00 h - Sofia - Plovdiv, arrives at 12,00h
13,10 h - Plovdiv - Hisarya, arrives at 14,10h
16,20 h - Hisarya - Plovdiv, arrives at 17,25 h
18,25 h - Plovdiv - Sofia, arrives at 21,20
If you would have any questions or enquirers, just send us a message at bdz@bdz.bg or follow us on our FB page.