Disabled passengers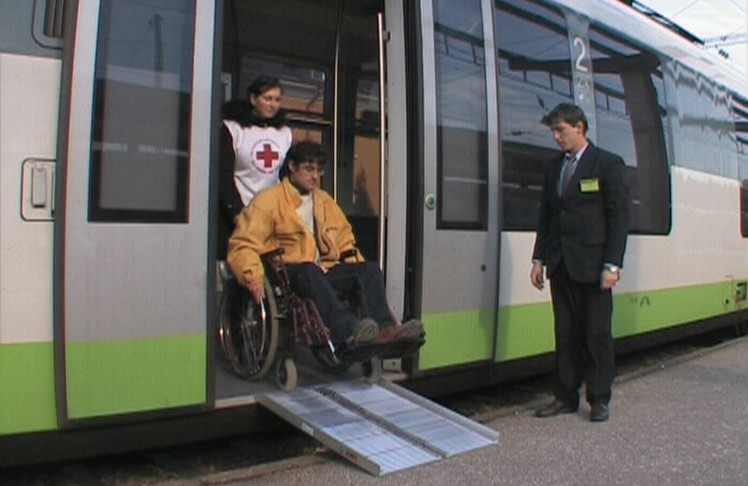 Transport servicing of disabled people according to the coach-train-coach" scheme is carried out in the following directions with the following express trains:
express train Golden sands" (Sofia Gorna Oriahovitsa Varna- train 2601)
express train Golden sands" (Varna Gorna Oriahovitsa Sofia- train 2602)
The above-mentioned trains have special train cars for disabled people in wheelchairs. The WC facilities in those special train cars are equipped in compliance with the European and international standards.
Dispatch railway station offices for disabled people have been established in Sofia, Plovdiv, Stara Zagora, Bourgas and Varna. Each one of the offices has a restroom and appropriate WC facilities specially equipped for disabled people.

According to the "Rules for access to rail transport of disabled persons and persons with reduced mobility in compliance with the requirements of Article 19 (1) of Regulation (EC) No 1371/2007", it is necessary for disabled persons and persons with reduced mobility to request a special coach before their travel, as follow:
- Two working days prior to the trip- for trains in which composition special coaches are included on a daily basis;
- Three working days prior to the trip- for trains, in which composition, in view of the request received, a special coach has to be included additionally
on the following telephone numbers at the dispatch points in the railway stations:

Sofia: tel. (02) 932 30 50; 0882 40 24 11; 0884 65 69 87; railway station 0884 570 515; 0884 363 086

Plovdiv: tel. 0886 222 787; railway station (032) 622 729; (032) 632 720

Stara Zagora: tel. 0886 079 060;railway ststion (042) 626 752; 0887 398 435

Bourgas: tel. (056) 845 717; 0892 229 164; railway station (056) 845 022; (056) 844 501; 0884 706 119

Varna: tel. (052) 650 112; 0885 225 414;railway station (052) 630 414; (052) 630 444;0884 279 160

Pleven: railway station (064) 831 133; 0885 397 694
Gorna Oriahovitsa: railway station (0618) 261 18; 0884 377 327
Shumen: railway station (054) 860 155; 0889 072 691
Jambol: railway station (046) 662 626; 0887 511 154
Sliven: railway station (044) 622 614; 0884 101 923
Pazardzhik: railway station (034) 444 720; 0889 366 739
Vidin: railway station (094) 606 050; 0884 405 819
Vraca: railway station (092) 624 415; 0884 405 742
Transport servicing of disabled people according to the car-train-car" scheme is carried out only on demand. The request should be made three days before the trip on the above-mentioned telephone numbers.
Foreign customers who show interest in transport services for disabled people may contact us at (+ 359) (0) 2 988 53 58 and (+ 359) (0) 2 932 41 90, e-mail: bdz_passengers@bdz.bg, bdz@bdz.bg